SCHEDULE
Below you will find:
-One-to-one sessions: in-person and online
-Weekly classes: 2 in-person and 3 online
-Workshops: in person and online
-Workshops for actors
-Ways to pay,
– Disclaimer
– A few free recordings

Want to keep up with what I'm doing?
join my mailing list!

Please wear warm, loose clothes for all classes, workshops and individual hands-on sessions. If you would like to receive updates for up-coming workshops or new classes, please join my database here or contact me at vicmworsley@gmail.com

Please note that if you book a one-to-one session or a series of 6 classes you must give 24 hours notice to cancel or postpone otherwise the full amount is payable.
——————————————————————-
ONE-TO-ONE: IN-PERSON (Functional Integration) in London N8, UK
I am currently open Tuesdays to Fridays.
Please wear: long trousers and long sleeves, loose enough to move  (for your comfort on the table)
Covid protocol:
– you do not need to sign a form or wear a mask, but, as always,  please do not come if you are unwell (even a sniffle) or might be coming down with something.
-currently I still test twice a week, wear a mask if asked (except for children), ventilate the room between sessions and have a high grade air purifier (hepa filter).
COST: £60 (£55/50 discounts available if needed) Sessions last about an hour.
FI 'INTENSIVE' : 4 FIs within 5 days
For some people this might be an interesting way to work and could create the conditions for a burst of improvement. After all Dr Feldenkrais worked that way often. However, as this is a more intensive way of working it is not suitable for all. Please contact Victoria to discuss.  This is about intensive working so only available as 4 sessions within 7 days. NB It is subject to availability so best to book at least 2 weeks in advance.
COST: £215 (£190 discount if needed)

ONE-TO-ONE: ONLINE
Obviously this is not Functional Integration, because touch is not possible.
But some specific issues can be improved using tailored Awareness Through Movement.
COST: £50 for an hour
——————————————————————-
WEEKLY CLASSES: IN-PERSON (London N8, UK)
Tuesdays:
7.45 – 8.45pm at The Haelan Centre (side entrance),
41 The Broadway, Crouch End London N8 8DT
£12 per class, contact victoria to book.
Booking/paying in advance for 6 classes is required (a lesson can be postponed with 24 hours notice), but occasionally there are drop-in spaces too.
Fridays: 1.30-2.30pm  at the North London YMCA  Fitness Centre,
Studio 2, drop in-class
entrance on Elmfield Avenue, Crouch End, London, N8 8SG
£10, book/pay for classes at YMCA – online the day before (registration neccessary) or you can pay at reception on the day.
DRIVERS PLEASE NOTE: Elmfield Ave becomes a School Street at 2.30pm. To avoid a fine when leaving, please park in an adjacent street.
WEEKLY CLASSES: ONLINE (ZOOM):
Monday 7.30-8.30pm GMT
Wednesday 10-11 am GMT
Thursday 6.45-7.45pm GMT (No class on July 14th)
COST: £10.00 (NEW PRICE) per class
For Zoom/payment links: Please contact Victoria
There will be no classes online or in person Mon 15th – Wed 31st August inclusive

---
WORKSHOPS FOR EVERYONE
ONLINE (ZOOM):
Sunday 24th July: SITTING CROSS-LEGGED
2-5pm BST ZOOM
Whether you find sitting cross legged easy or very difficult, this workshop will help you explore how your whole self is involved in being be upright in sitting while enabling your legs (or supporting your legs) to be in this outward place.
£30 contact Victoria for zoom and payment links

IN-PERSON
watch this space!
WORKSHOP FOR ACTORS
Thursday July 14th: Two taster workshops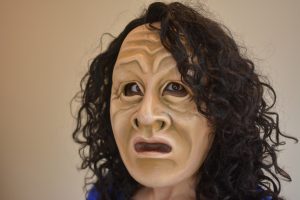 Victoria Worsley and John Wright offer two original taster workshops designed to develop new avenues for your acting through movement explorations from the Feldenkrais Method and the extraordinary agency of masks. No previous experience is required and the workshops are sequential. Both workshops are entirely practical.
(photo from John Wright's book "Playing the Mask" publ by NIck Hern Books)
 Re-charging your Inventiveness
Exploratory play is a skill we all learned before we could walk, but most of us have had it educated out of us. This combination of Feldenkrais and mask work enables us to rediscover skills we forgot long ago and rekindle playfulness. 10am-1pm
Two masks to take you further
This workshop uses two  very different masks, supported by mini movement lessons from the Feldenkrais Method, to examine two contrasting personas and enable us to explore the particular combinations and extremes  that appeal to us. 2-5pm
At: Scene and Heard, 128 Chalton St, London NW1 1RX
Cost: Both workshops £50, One workshop £30
Bookings: the wrightschool
Sunday 14th August,  10am-1pm:
CHARACTER AND TRANSFORMATION: INTERNAL SPACE AND BREATH
Hosted by Shapes in Motion
As actors and performers we are always looking for ways to get into the skin of a character or creature and the particular ways they experience themselves and the world.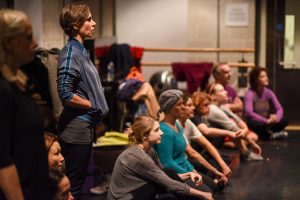 Drawing on lessons from the Feldenkrais Method, we will explore unusual ways you can use the breath to open up and play with your sense of internal space, the way you hold yourself and move – even your size and shape to have a whole new experience of yourself and the world around you. (and see what it does for your voice into the bargain!)
At: Sadlers Wells,Rosebery Ave, London EC1R 4TN
Cost:
– Early bird booking fee if booked and paid for by 15h July 2022 £55.  From 16th July 2022 £65.
– Students & Spotlight members will receive a 10% discount with proof of ID/Spotlight link.
– Regular Shapes in Motion Movers & Makers will receive a 15% discount.
Booking: Email Sarah for a booking form.
(photo from Shapes in Motion at Sadlers Wells by Tom Scurr)
---
WAYS TO PAY
-via Paypal -address to use: feldenkraisworksvw@gmail.com
-via internet banking:  please ask for details
DISCLAIMER
The Feldenkrais Method is a learning method, inviting you to go gently, slowly and to feel and notice what you do and adapt – not to push, strain or try hard. Part of its aim is to enable you to take care of yourself rather than have to always rely on the outside intervention of a teacher.
Please note that while I do my best to keep students safe, classes are always at your own risk, especially online where I cannot see you as well as in-person. You will need to be able to get up and down from the floor (super slowly is fine!) and to lie on the floor.
If you have a medical condition and are unsure, please consult a doctor. For anything else please  contact Victoria.
——————————————————————-
FREE SHORT RECORDINGS
I have made a series of short lessons from 30-40 minutes long which are up on my vimeo and are embedded The lessons cover aspects of life that seemed important during the Lockdown, (and continue to be!). They were selected for being  calming as well:
eyes, hand, arms, shoulders, neck – for so much phone and computer use being online.
breathing – we all need good lung capacity!
You will need  enough space to lie down on the floor (on a mat or blanket). Have a towel or blanket that you can fold to put under your head if you need it rather than a soft cushion or pillow as these tend to prevent your head from moving.
Please be sure to do these lessons gently, carefully and stop if anything hurts or strains. I am not there to help keep you safe, so it will be up to you to look after yourself.
Lesson 1: Hands and EyesLesson 2: Softer Hands, Easier Shoulders

Lesson 3: Making Space for the Breath

Lesson 4: Corkscrew for the Ribs, Breath and Eyes
Lesson 5: See-Saw Breathing and Twisting