Jan 1st 2021: We are currently in lockdwn 3. Numbers locally in Haringey are stubbornly high.
ATM (Classes): online only for now. (NEW ZOOM LINK for all classes since Jan 4th.)
FI (One-to-one, hands-on) As a practitioner who supports health I am  allowed to work in-person 1-1 in all tiers and lockdown, however infection rates are so high I am only seeing a few. Please see below for details.

BELOW YOU WILL FIND:
In person (when open) and online one-to-one sessions.
Weekly classes – 4 online (2 in-person when possible again)

online workshops
Ways to pay, disclaimer
Free recordings
IN-PERSON ONE-TO-ONE (Functional Integration):
I have a rapid test (lateral flow) on Tuesday afternoons now. From w/c 18th Jan, I will be open on wednesday and thursday to see clients with medical conditions, on-going pain or those who need kind of mental health support the work can bring. However, please note that lateral flow tests do not have a very high rate of accuracy.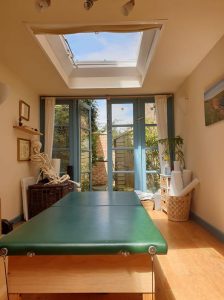 My room has its own street entrance,  is well ventilated and has a Dyson air purifer with HEPA filter as recommended by WHO for filtering out Covid as well as allergens and toxins. Current  information on PPE and Covid protocol here
COST: £60 (£55/50/45 discounts available if needed) Sessions last about an hour.
ONE-TO-ONE ONLINE:
Obviously this is not Functional Integration, because I can't touch.
But via Skype or Zoom I can help with some specific issues using tailored Awareness Through Movement.
It does mean we can work with a wider range of presenting needs and interests than I am allowed in-person during Lockdown 2.
COST: £50 for an hour with a discount to £45
WEEKLY CLASSES

ONLINE (ZOOM):
Monday 7.30-8.30pm
Wednesday 10-11 am
Thursday 6.45-7.45pm
(PLUS Friday 12.00-1.00pm while we are in tier 4/lockdown and until we can return to YMCA)
COST: £9.00 a class, this is usually the bottom end of my sliding scale, but if your income has been savaged  due to COVID19 then get in touch.
TO BOOK: Please contact Victoria
ONE LINK TO RULE THEM ALL: You will get one Zoom link for all the classes NB this is a new link as of January 4th 2021 to last until the END OF COVID.
WORKSHOPS ONLINE:
 Saturday Jan 23rd– BREATHE TO MOVE & MOVE TO BREATHE
Using the breath to find new ease in movement and vice versa.
10.30am-1.30pm, £30, booking: Victoria
 Saturday Feb 27th – LOOKING UNDER THE BRIDGE
Adventures in bending and arching to enable the head to move and the eyes to look around!
10.30am-1.30pm, £30, booking: Victoria
ADVICE AND INFO FOR ONLINE  CLASSES & WORKSHOPS HERE
WAYS TO PAY
-via Paypal: feldenkraisworksvw@gmail.com
-via internet banking:  please ask me for details
I am not able to help those who cannot get into the class for any reason,. especially once class has started and I am teaching. It might be best to pay straight after the class rather than before, in case you don't manage to get in or something goes badly wrong.
DISCLAIMER
PLEASE NOTE THAT I CANNOT SEE YOU AS WELL AS USUAL IN CLASS, SO IT WILL BE IMPORTANT TO LOOK AFTER YOURSELF CAREFULLY, GO GENTLY AND DON'T DO THINGS THAT HURT OR STRAIN.
JOINING A CLASS WILL BE AT YOUR OWN RISK.
FREE SHORT RECORDINGS
I have made a series of short lessons from 30-40 minutes long which are up on my vimeo and are embedded The lessons cover aspects of life that seemed important during the Lockdown, (and continue to be!). They were selected for being  calming as well:
eyes, hand, arms, shoulders, neck – for so much phone and computer use being online.
breathing – we all need good lung capacity in case we get ill or are recovering
You will need  enough space to lie down on the floor (on a mat or blanket). Have a towel or blanket that you can fold to put under your head if you need it rather than a soft cushion or pillow as these tend to prevent your head from moving.
Please be sure to do these lessons gently, carefully and stop if anything hurts or strains. I am not there to help keep you safe, so it will be up to you to look after yourself.
Lesson 1: Hands and EyesLesson 2: Softer Hands, Easier Shoulders

Lesson 3: Making Space for the Breath

Lesson 4: Corkscrew for the Ribs, Breath and Eyes
Lesson 5: See-Saw Breathing and Twisting