IN-PERSON FUNCTIONAL INTEGRATION SESSIONS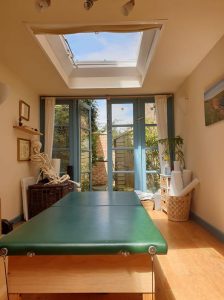 As practitioners who support health (physical and mental) Feldenkrais Teachers are currently allowed to work in-person 1-1 in all tiers (and even National lockdown) with all covid protocols in place.
Covid safety: I work in a studio next to my house. No other practitioners use it. It has no waiting room and it opens directly to the street. As well as having patio doors at the back for ventilatio,. I have now added a Dyson air purifier with a HEPA filter as recommended by WHO for filtering out toxins, allergens and pathogens including Covid19. My sessions are widely spaced for ventilation and cleaning time between.   I take a lateral flow test twice a week and have had my first vaccination.
Inevitably there are still risks though, so if you wish to come for a session, I will  email you a form like this:

PLEASE DON'T TRY TO FILL THIS FORM IN – IT IS JUST A PART OF WHAT I WILL SEND YOU BY EMAIL.
Covid Protocol for Functional Integration (one-to-one hands-on) Sessions 2021

To be able to see you, I have to ask you to please read everything in this document carefully and then tick/fill in.
1) Please read the whole document and then tick the boxes next to the three statements below if you agree with them.
I understand the risk and still wish to come ☐
I have read, answered and agree to this protocol for all my sessions until you the practitioner or I change it in writing ☐
I understand that even with these precautions my safety from infection cannot be guaranteed. ☐
2) Please answer these two questions:
Do you have you had a cough, temperature, loss of smell or taste – or have you been feeling otherwise unwell (eg. achey, tired, headachey)?
yes ☐ no ☐
In the last 14 days have you been in the company of someone else who has since had to quarantine for Covid 19 or possible Covid 19?
yes ☐ no ☐
If the answer is yes to either of those questions I'm afraid I have to ask you to postpone your session.

3)  Please answer these three questions:
Are you in the vulnerable or shielded groups for your age or a health condition?
yes ☐ no ☐
Do you live with someone who is vulnerable or shielded?
yes ☐ no ☐
Does your life or work involve regular extended close contact with the public?  eg on public transport at crowded times, at work or in your social life.
yes ☐ no ☐
Please consider if your answers to these questions make the risk of you coming too high for yourself or others (also depending on the level of infection in the country at the time you wish to come) and we can discuss/evaluate the risk if necessary.
4) To reduce your (and my) risk of exposure:
Please wear long trousers, long sleeves and bring socks.
Please wear a face covering (I have some spare disposable face masks if necessary).
Please be on time as there is no waiting room, and I also need to leave a minimum of 30 minutes between appointments to aerate and sanitise the room.
Please use the hand sanitiser on arrival and departure.
The only toilet is in my house, and it is advised that you do not use it unless you urgently need to. If you do, there is high grade sanitiser for you to spray all surfaces with before and after use. There is no towel for the sink, only kitchen roll.
Please bring your own water.
Please pay by internet/bank transfer or paypal before your session. (I do have a VISA machine but it depends on a slightly wobbly wifi/4G at the moment.) I can accept cash if needed.
Please change your clothes and wash your hands and face when you get home.
5) Precautions and practices I take to keep you safe include:
Cancelling appointments if I answer 'yes' to either of the questions in no 2 above.
Wearing washable scrubs and a washable mask/visor which I change between each client.
Using hand sanitiser throughout our session. (I have gloves if needed)
Opening the patio doors and/or skylights as possible weatherwise for ventilation, and/or using a high end dyson air purifier (HEPA filter)
Sanitising all surfaces with a high grade sanitiser and aerating the room between clients.
I take 2 rapid tests a week and had my first vaccination in march
6) The Government Guidelines currently stress reduced contact time indoors so I am looking to keep time in the studio below an hour. To help this:
If the weather is good, we can talk in the yard behind the studio to reduce time indoors. or we can have a short phone or video call first.
Booking the next appointment by email/text after (unless it is a simple confirmation of 'same time, next week') would be good to reduce time in the room as well.
I am so sorry to have to have these measures in place as they may seem a little distancing at first, but they are required and I have vulnerable family members as well as many other clients to keep safe.
The sessions don't go so well if you feel unsafe or if we feel too distanced behind masks, so a good way of deciding whether to book might be to consider how these measures sit with you.
The Feldenkrais Method contains an idea of improving our ability to adapt to our circumstances and find new possibilities within constraints. Masks are not ideal but I am finding  that while they might be strange initially, it is surprising how quickly we can get used to them. However, if it is not for you, there is always zoom – and surely this period won't last for ever……
Finally, I know that some of you may not believe in such precautions- or even in the gravity of the pandemic – but, professionally speaking, I must follow the guidelines, so  please do not ask me to leave these precautions aside for you. If you have a condition that does not allow you to wear a mask we can discuss what might be possible.
My very best wishes,                                                                       Victoria Worsley FG(UK)