IN-PERSON FUNCTIONAL INTEGRATION SESSIONS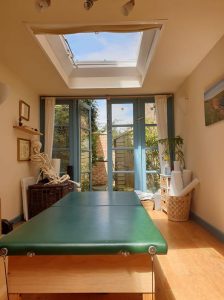 As of July 19th the only covid protocol I am changing is to allow my clients to choose to wear a mask or not. I will continue with all my own protocols (including wearing a mask myself) for everyone's safety, including vulnerable members of my family.
Covid safety: I work in a studio next to my house. No other practitioners use it. It has no waiting room and it opens directly to the street. As well as having patio doors at the back for ventilation, I have  a Dyson air purifier with a HEPA filter as recommended by WHO for filtering out toxins, allergens and pathogens including Covid19. My sessions are widely spaced for ventilation and cleaning time between.   I take a lateral flow test twice a week and have had both vaccinations.
If you wish to come for a session, I will  email you a form like this:

PLEASE DON'T TRY TO FILL THIS FORM IN – IT IS JUST A PART OF WHAT I WILL SEND YOU BY EMAIL.
Covid Protocol for Functional Integration (one-to-one hands-on) Sessions 2021

1) Please read the whole document and then tick the boxes next to the three statements below if you agree with them.
I understand the risk and still wish to come ☐
I have read, answered and agree to this protocol for all my sessions until you the practitioner or I change it in writing ☐
I understand that even with these precautions my safety from infection cannot be guaranteed. ☐
2) Please answer these two questions:
Do you have you had a sore throat, cold, cough, temperature, loss of smell or taste – or have you been feeling otherwise unwell (eg. achey, tired, headachey)?
yes ☐ no ☐
Have you been in the company of someone else who has, or has since developed, Covid 19  in the last 10 days
yes ☐ no ☐
Have you returned from a country on the amber or red list for travel in the last 10 days
yes ☐ no ☐
If the answer is yes to any of those questions I'm afraid I have to ask you to postpone your session.

3) To reduce your (and my) risk of exposure:
I will be wearing a mask (except for children) – you may choose to or not.
I usually ask people to wear long trousers, long sleeves and bring socks anyway, more for comfort and to make the session easier than for covid, these can be very light if it is hot.
Please be on time as there is no waiting room, and I also need to leave a minimum of 30 minutes between appointments to aerate and sanitise the room.
Please use the hand sanitiser on arrival and departure.
The only toilet is in my house, if you do need it, there is high grade sanitiser for you to spray all surfaces with before and after use.
Please bring your own water.
Please pay by internet/bank transfer or paypal before your session if possible. (I do have a VISA machine but it depends on a slightly wobbly wifi/4G at the moment) I can accept cash if needed.
4) Precautions and practices I take to keep you safe include:
A lateral flow test twice a week (on Tuesdays and Thursdays usually).
Cancelling appointments if I answer 'yes' to either of the questions in no 2 above (or have a positive test obviously!).
Changing clothes and mask between clients
Using hand sanitiser throughout our session.
Ability to open the patio doors and/or skylights for ventilation – depending on warmth/weather
A top of the range dyson air purifier with WHO recommended HEPA filter when doors not open.
Sanitising all surfaces with a high grade sanitiser and aerating the room between clients.
I have been double vaccinated since mid June.
Signed (not necessary if returned by email)
…………………………………………………………………………………..
My very best wishes,                                                                       Victoria Worsley FG(UK)